Trinity's very first Cookie Walk, held Saturday Dec 8th, was a great success!   Volunteers from Trinity baked hundreds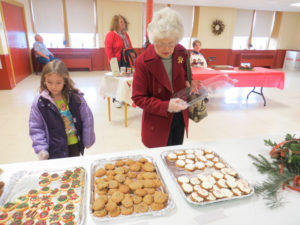 of dozens of cookies, filling the Social Room with lots of homemade varieties of yummy holiday treats.
Shoppers stopped in to pick our their favorites – many left with as many as 7 dozen each.   Beautiful holiday decorations were donated by Bill Dellinger and granddaughter Mikayla.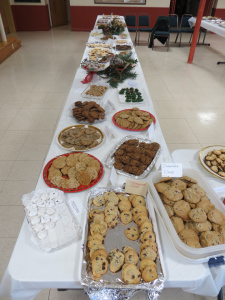 J.J. Bain organized the event after seeing a similar event held by a church in Hagerstown.
Many volunteers made the event possible, with all the proceeds going directly to the South County Food Pantry for its Micah's Backpack program. More than $900 was raised.
The MB program helps provide a backpack full of nutritious food to approximately 50 children at 5 elementary schools in the Boonsboro area, who otherwise may not have food over the weekend.