Trinity's Annual Cookie Walk, to be held Saturday, 12/6 from 10am-2pm, benefits Micah's Backpack, a program of the South County Food Pantry.  MB provides a bag of nutritious food for the weekend to hungry kids at elementary schools in the Boonsboro area.
In 2014,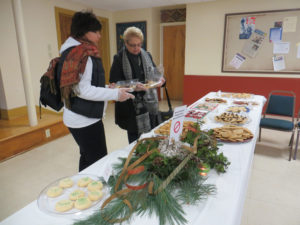 the program is serving 72 children among four schools.  These children receive hot meals while at school through the county's breakfast and lunch program, but may not have regular access to nutritious food on the weekends.   MB helps to bridge that gap.
The program is funded and supported by our local community.  Though the program is based at Trinity Lutheran Church in Boonsboro, it is supported by volunteers throughout the community. For more information, visit www.southcountyfoodpantry.org.
How Does it Work? 
At the Cookie Walk, you'll find dozens of homemade holiday cookies made with love by members of Trinity Lutheran.  Simply fill up a container with selections of your choosing and make a donation to benefit MB.
Held 10am to 4pm, but be sure to get there early!  Dozens of cookies will fly out the door shortly after opening.