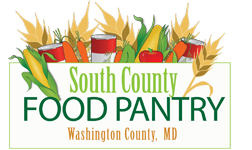 The South County Food Pantry is located within Trinity Lutheran Church.
The Food Pantry serves approximately 150-200 people each month in southern Washington County, Maryland, including Boonsboro, Keedysville, Pleasant Valley, Sandy Hook, Sharpsburg and part of Greenbrier.
The hours are every Thursday from 1:00 to 3:00 and families in need of food may visit the pantry once a month.